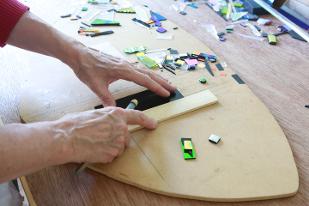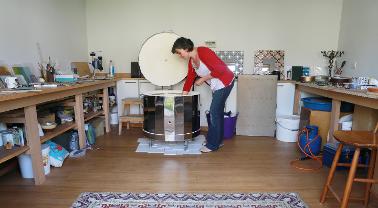 About:
I originally trained in Fine Art but have worked in crafts for some years now. An interest in mosaics led me to explore new mediums and along the way I discovered dichroic glass. It is a fascinating material to work with and one that I hope to continue to experiment with for many years to come.
The jewellery I make uses both art glass and dichroic glass. It is "kiln-formed". The glass is cut to shape and then fired to varying temperatures. Single layers can be slumped or bent or, at a higher temperature, multiple layers can be fused together. Some pieces are then cold-worked and re-fired. There is huge scope for experiment.
All the pieces are individually designed and hand-crafted.
All items are supplied in a gift box or are gift wrapped.
One of the characteristics of dichroic glass is that it transmits one colour and reflects another. This means that its colour shifts depending on the angle of view. For this reason it is very difficult to photograph but I would say that the piece in the hand is always better than the photograph. However, if an item you purchase is not as you expected I am, of course, happy to give a full refund on its return.
Dichroic Glass
Dichroic glass was first developed in the 50's and 60's for the space industry. It is produced now by just a handful of manufacturers. It is a high-tech material that is created by vaporising quartz crystal and metal oxides in a vacuum chamber and allowing the molecules to be deposited onto the surface of a blank sheet of usually clear or black glass. Computerised control of time and temperature determine the thickness of the layers deposited on the glass. There may be up to 50 individual layers. With so many variables, dichroic glass presents an incredibly rich and varied palette of colours and patterns to work with.